I don't think it is inappropriate.
I don't think it makes her look desperate.
I think it indicates that she has very good taste.
Note from the Chief Bottle Finder: Glad to read you're feeling good about yourself. Self-confidence is typically seen as a desirable trait as long as it's properly proportioned. Kind of like cooking with habarano peppers – wouldn't you agree?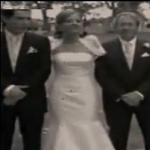 Want more music?
Want more videos?
Check out the Lovelorn Poets YouTube channel.