Missed Connection in Anchorage, AK
I Stood In The Elevator As You Cried
You were wearing a white sweater over a black long sleeve t-shirt.
Brown hair rested on your shoulder blades, bangs hung over eyes, black soft gig-case containing what I can only assume was a guitar strapped on your back like a child's school bag.
You were crying.
At first I only noticed the slight hint of bleeding mascara staining your right cheek but intervals of single tears fell from your face to their doom on the carpeted floor.
I was aghast. Flash frozen.
You dabbed the tears like beckoning a bird to pitch.
That's when you covered your eyes and forehead and began to sob.
"I'm so sorry."
The three words crept out of my mouth.
The elevator stopped, the bell rang and the doors opened.
With purpose you took two large steps.
Lowering your hand then turning clockwise to meet my gaze;
"Thank you."
Your voice had a smoldering smoky quality.
This was the moment I realized your beauty.
You left.
I need to know what caused you so much pain.
Is this situation you were crying about still there?
Or are you in a better place than when I saw you in an elevator at the 5th Avenue Mall?
I just need to know you're ok.
Note from the Missed Connections Chief Bottle Finder: What a sad message! And so beautifully written – I could envision this being the opening scene of a film.  Let's hope our Anchorage poet was more successful than Jonathan Richman was against "hippie Johnnie" in this Modern Lovers classic.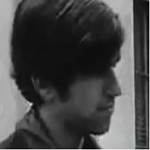 Want more music?
Want more videos?
Check out the Lovelorn Poets YouTube channel.