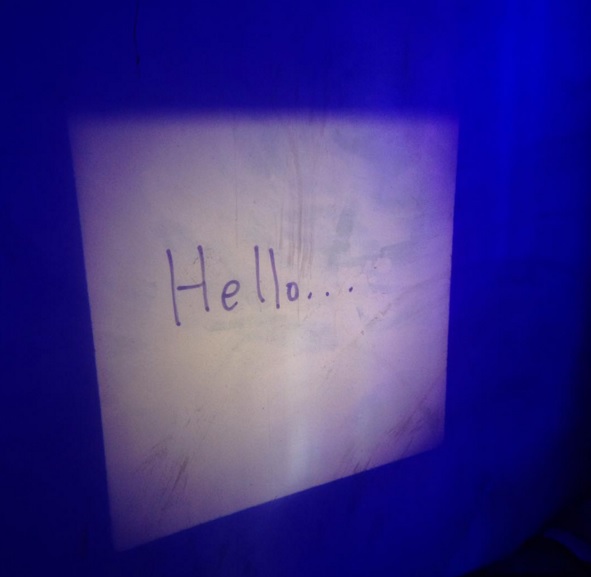 45 Days of Sleepwatch
Throughout the early winter months of 2015, a series of 45 poems posted to the Craigslist Missed Connections in London, England were found. Titled "Sleepwatch," each poem explores the symbols and themes that infuse our dreams. 45 Days of Sleepwatch is a participatory assemblage project, allowing visitors to read the original Sleepwatch poems, thoroughly explore the Sleepwatch space in a multi-sensory manner, and create and contribute their responses in whatever way they choose.
hello,
thank you for your curiosity
sleepwatcher writes of
fragmented accounts of dreamt events
half remembered scenes that might have been
from sleepworld to the world wide web
trying to communicate with others through a
sense of removal
each post expires after 45 days which will
therefore be the length of time that
sleepwatcher writes for –
after the last post is posted (01.04.15) the first will delete and so
the process will begin to reverse
until the water stills
but
the real story is
the boy with broken teeth became
do you want to help me write it?
tom
While the Sleepwatch room has been described as a "make your own adventure story" not everyone is immediately comfortable with an installation where visitors are actively encouraged to TOUCH THE ART. An optional room map is provided to every visitor in a sealed envelope for knowledge, enjoyment, and as a token granting permission to create in and contribute to the Sleepwatch space.
Sleepwatch News Updates
May 16, 2016
45 Days of Sleepwatch (Pittsburgh) and 45 Ways to Sleepwatch (London) came to a close yesterday, May 15, 2016, forty-five days after launching on April 1. The London Missed Connections accepted all 45 posts, whereas the Pittsburgh Missed Connections flagged several, resulting in the posts ending on May 8, 2016 (so close to the end!) due to my account being banned. Thanks so much to all the curious readers who emailed, as questions, and came to visit the installation. What started as a nerve-wracking, somewhat anxiety-provoking experiment ultimately resulted in a great deal of fun. I will be putting pdf files of all the stories, mash-up poems, and art on this site in the near future… Stay tuned!
April 1, 2016
As the original Sleepwatch poet ended their 45 days of poems on April 1, 2015 it only seemed appropriate that I launch the final phase of this project (informally titled 45 Ways to Sleepwatch) on April 1, 2016 on both the London Missed Connections ('cuz that's where it all began) as well as the Pittsburgh Missed Connections ('cuz that's where it is right now!). I will be posting work for the next 45 days on both of these fora – but whether it stays visible to the general public will be largely determined by the readers of each. Search on Sleepwatch, Northside, or Boyle and hopefully you'll find them… The readers in London have so far been accepting, whereas the readers in Pittsburgh have already flagged one post into oblivion. *shrug*
Also, it's not too late to stop by and visit the installation – you can read all of the original poems as well as the artwork and writing generated by visitors, and create work of your own if you so choose. The Sleepwatch room will be available until May 15 (and maybe a bit longer). Email Laura Z. to set up your time as appointments are necessary.
March 23, 2016
Yes, it's true that all good things must come to an end, and it appears that after months of teeth-gnashing, the Cyberpunk Apocalypse building WILL be put up for sale this summer. Sleepwatch will be available for viewing at least until May 15 (and maybe a bit longer). So… if you've been waiting to come by for a look-see-do, email soon and set up your time.
February 15, 2016
Did you see Sleepwatch in the latest issue of Dan McCloskey's awesome comics-series, Free Money? The 45 Days of Sleepwatch space is waiting for you. Send a message with the date/time you'd like to come by (the afternoon light in the room is quite spectacular – if you can visit during daylight hours you won't regret it!) Email to set up a time to visit.
January 15, 2016
After a soft launch in November and December of 2015, the Sleepwatch space is now open to the general public for viewing and hands-on engagement. Visitors should plan on spending a minimum of 20 minutes to fully engage with the materials and explore. Longer visits, including overnight stays, can be arranged for those interested in producing a larger-scale piece of work. Sleepwatch is located on the 3rd floor of the Cyberpunk Apocalypse, at 1200 Boyle Street on the North Side of Pittsburgh (please note, this building does not have an elevator). Appointments are necessary! Send an email to set up a time to visit.
October 16, 2015
Sleepwatch was presented as part of the Open Critique series at Neu Kirche Contemporary Art Center. Photos, thoughts and suggestions were shared, and "beta-testing" of this participatory installation should begin soon! Thank you to everyone who attended last night and offered feedback.
September 12, 2015
The I Sleepwatch photo portrait gallery from the Polish Hill Arts Festival is now live and available for viewing. The desire to capture the moments on B&W film, and then hand process and print took much longer than anticipated…
September 10, 2015
Sleepwatch now has a new home at the Cyberpunk Apocalypse in Pittsburgh's North Side! The complete installation, which builds upon and extends the offering at the Polish Hill Arts Festive, should be ready for interactive, multi-sensory engagement by November.
July 20, 2015
Thank you to all the Sleepwatchers who participated yesterday at the Arts Fest! It was a great day. Thank you.
July 17, 2015
Blogski: Polish Hill Arts Fest
July 13, 2015
NEXTPittsburgh: Music, Making and More at the Polish Hill Arts Festival